- FREE GLOBAL SHIPPING
- 4 TO 15 DAY DELIVERY
- DELIVERY FULLY INSURED (free replacement if damaged)
   - 99.993% PURE HEALING CRYSTAL                     
 8" B Note Root Chakra Demonstration
---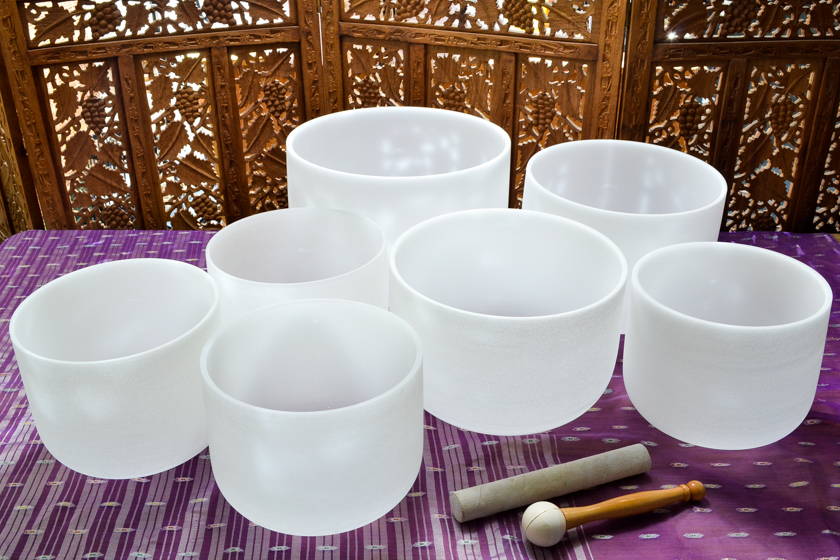 "I was on a path to death, couldn't eat solid food for over a year. Doctors said I was in-curable, this instrument saved my life. Healed in less than 2 months ...... want to heal? GET THIS!"
- Michael M.
Start your healing journey
Heal your mind and body deeply and holistically, calm your mind, unlock your body's chakras and release hidden energy! This is sound as medicine, for you to heal naturally and grow spiritually. Imported from Nepal and made with Nepali Quartz which carry high spiritual energy, crystals from here are known for their amazing healing properties. Crystal singing bowls are Eastern medicine. The bowls are made of 99.993% Nepali quartz (purest available), making them incredibly resonant with magnified healing properties. The tones produced by this crystal bowl is not just heard by the ear, you feel them in your body, affecting your energy centers (chakras) for healing, mindfulness & meditation.


Reported Customer Healing Benefits (After 1 Week Of Use):


Significantly reduce stress and anxiety
Deeper meditation(result of higher alpha brain waves)
Dramatically improved sleep quality
More mindfulness, happiness and well-being
Lowered anger or blood pressure
Improve circulation and increases blood flow
Deep relaxation and pain relief
Chakra balancing
Crystal Stone Cleanse
Increase mental and emotional clarity
Great conversation starter
1.5 lb of natural celestite quartz crystal rock used to make one 8" bowl 
7 Main Chakras and Corresponding Notes, Location, Element, Color, Effects
---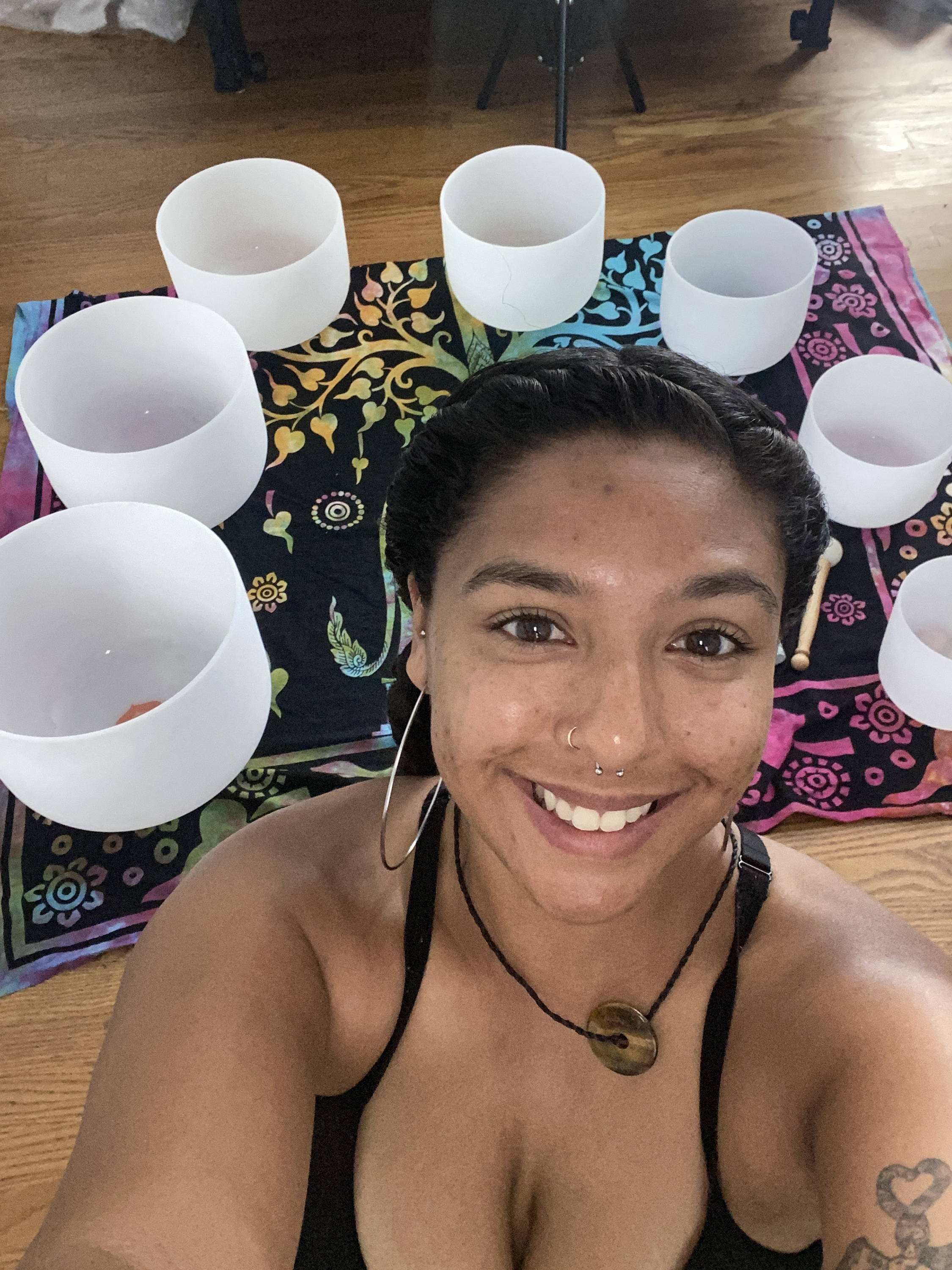 "My Chakra singing bowl is amazing! I've used it daily since receiving it and have played for others too! Touching and healing others while healing myself!🧘🏽‍♀️😊 🙏🏽 Thank you, thank you, thank you so much for creating such beautiful gifts. I'm sooooooo in love."
- Myleya G.
@truebeautyley
---
So you're not sure which Note/Chakra to get?

All Orders Include: 1x rubber O-ring (for bowl placement protection) and 1x mallet
Inventory: Limited Quantity. We sell out often. Please consider getting two or more. Get one for yourself or your friends/family who practices chakra healing, meditation, yoga, holistic sound healing.
Unique Features

Specifications:
Model Number: Quartz singing bowl-008
Weight (lb):  4.5 lb
Diameter (cm):  8"
Material: 99.993% pure quartz crystal
Frequency: 432hz
Theme: Meditation, Yoga, Sound healing, Buddhism, Chakra balance, Dharma

How to Play a Crystal Chakra Singing Bowl?
This is a brief description of the playing technique called "Around the rim" technique.
Place your singing bowl on a flat surface.
With the tips of the fingers of your other hand pointing down, grasp the mallet.
Apply even pressure, while rubbing the mallet in a clockwise or anticlockwise (traditionally non-Buddhist) direction on the rim. You should always use the outside edge of the rim.
Don't use just your wrist, let your entire right arm move around the rim.
Now you should hear a sound. If it sounds odd or out of phase, change the speed. Speed up or slow down to let the sound form slowly and naturally.
Pure sounds can also be heard by gently striking the bowl with mallet
So what is a chakra?
Simply put, it's an energy center or areas of the body that is dense with energy. They're usually associated with the psychological or energy body, rather than the material/physical body, although several of the chakras correspond to areas that have vital organs, such as the heart, brain, and reproductive organs. There are 7 main Chakras.
Important: Signs of Blocked Energy at Each Chakra
How To unblock chakras and get energy flowing

Below images show the chakra energy balance before and after singing bowl sessions over a one month period. (Dr. Konstantin Korotkov's Bio-Well human energy field assessment tool
The above before and after client images were taken with a bio-resonance system. Please note in the first Aura Photo that the Client's Aura needs alignment/healing work with their out of balance and unfocused chakras. (The more circular a chakra the more balanced and focused it is. Brighter colors indicate balanced, high energy, and positive qualities of chakra. Dark or 'murky' tones indicates low energy, unbalanced and stressed chakra activity. This goes for the surrounding aura in general as well.) As you can see, after the singing bowl session the client's chakras have been balanced, energized, as well as the surrounding Aura itself much clearer with the Crown or 7th chakra very bright indeed.
SHIPPING & DELIVERY
Processing Time: We process orders between Monday to Satderday. Orders will be processed within 1-5 business days of ordering and shipped out the next day after the processing day.
Shipping Time
US Standard Shipping time: 7-15 Natural Days
US Premium Shipping time: 2-8 Natural Days
Shipping Charges
Shipping charges are depending on the price of your order
Standard shipping: $9.99
Premium shipping: $29.99
You can reach out to our track order page or our support team to track your package at any given time 24/7/365 at your convenience.
RETURN
Returns are easy, simply contact us and send your item to our returns center for fast processing. We'll get you a replacement or refund in a snap!
You get a full 30 days to return your item to us. If it doesn't fit, it breaks, or it doesn't work for any reason! Send it back to us and we'll cheerfully refund you every cent.
Returns are easy, simply contact us for a returns number and send your item to our returns center for fast processing. We'll get you a replacement or refund in a snap!
We insist that you love everything you buy from us. If you're unhappy for any reason whatsoever, just let us know and we'll bend over backward to make things right again.
Ordering from Kreativeproduct is 100% safe and secure so you can rest easy. Your personal details are never shared, sold or rented to anyone either.